One Software, Many Solutions
Vacation Rental Software
LiveRez goes beyond the standard vacation rental management software. With LiveRez, you can replace your trust accounting software, booking software, CRM, and operations software. Add to that a brand-new website that's built to convert and support from our staff, and you have a powerful connected ecosystem of features that will help you reach your goals.
Without partnership, it's just software.
LiveRez offers more than just a powerful vacation rental management software. When you sign up, you'll gain access to a community of property managers all around the country. You're more than just a customer – you become a partner in this ecosystem of shared ideas and collaboration. LiveRez is here to work with you to grow your business each year.
Website Design
Vacation Rental Website Design
LiveRez specializes in creating websites that convert and helping property managers increase their revenue each year. Our customers enjoy sites that employ best practices to convert guests and homeowners and reach important KPIs. Plus, your website will feature cohesive branding that's unique to your business. Go beyond the standard vacation rental website builder and create something effective with LiveRez.
Built with conversion as priority
Mobile-responsive
Online booking engine for direct bookings
Built-in website editor
Seamless integration with all of LiveRez's features
Included in your LiveRez fees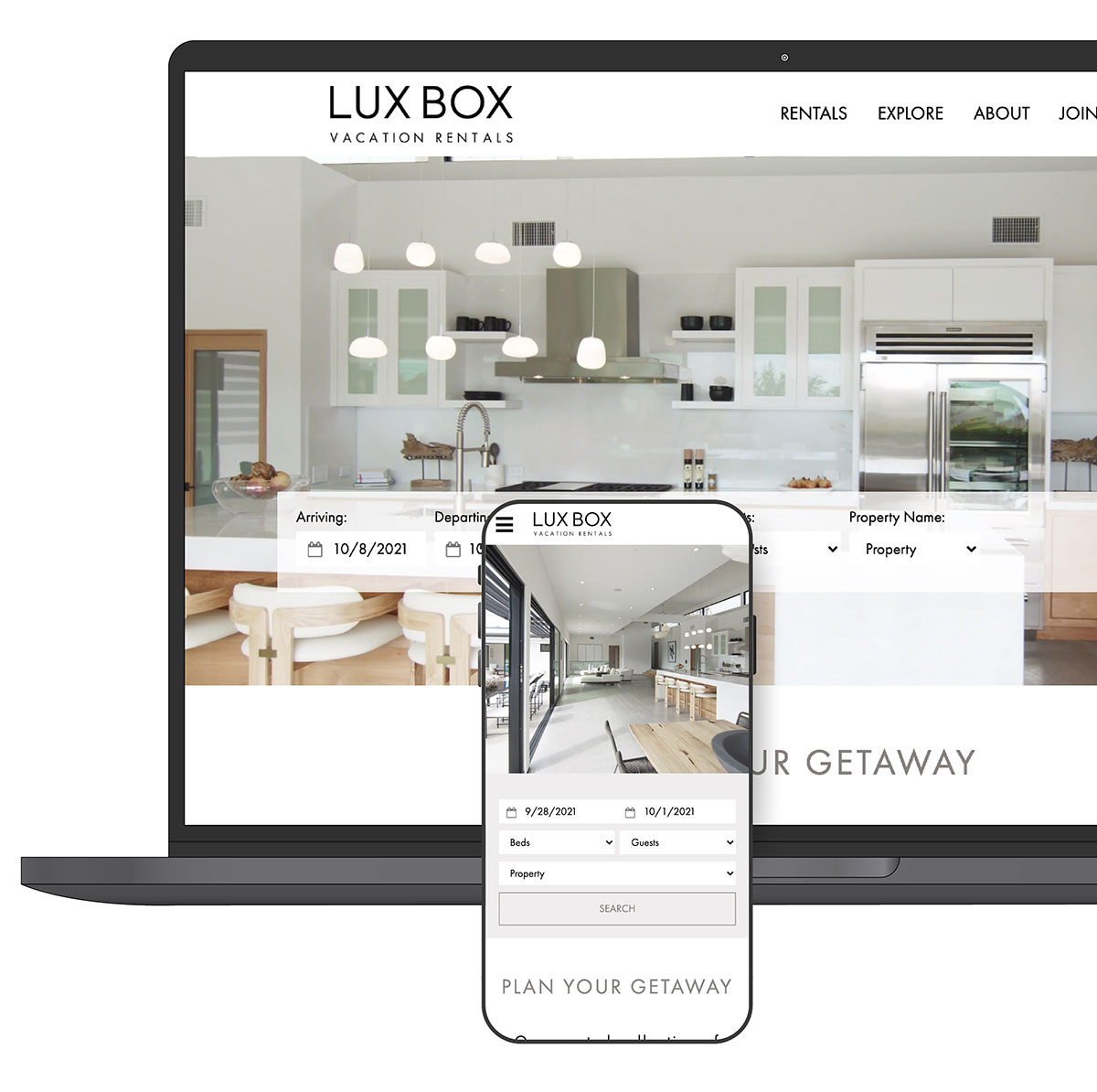 Reservation Management
Vacation Rental Booking Platform
Refine your booking process with a powerful vacation rental reservation software. The LiveRez PMS is well-established in the industry and has over 13 years of experience. Plus, consistent updates and innovations means that you'll stay at the forefront of industry standards.
Instant quotes
Data instantly feeds into local accounting software, LiveTrust
Manage properties and homeowners from one dashboard
Automation tools to save you time
Advanced rate manager
Intuitive booking grid
Twice-a-month release notes
LiveStay app enhances the guest experience
Analytics and reporting
Reliable
Owner portal
LiveList
DIRECT CONNECTION TO OTAS
The way you use OTAs can have a major effect on your business. With the help of LiveRez, your reservation software will connect directly to the industry's largest online travel agencies as well as utilize channel managers for more niche third-party booking sites. Our knowledgeable staff will even offer strategic support to use these sites to your advantage. With LiveRez, you'll effectively use OTAs in your vacation rental management strategy to find new leads and get more bookings.
Direct connection to major OTAs
Global distribution to acquire new guests
Strategic support to optimize OTA usage
Support and education to learn more about using third-party sites
LiveComms
CRM for Vacation Rental Managers
Capture leads and guide prospective guests and owners through your sales funnel with LiveRez's built-in CRM, LiveComms. You can easily track your campaigns and marketing-qualified leads for any listing site, marketing source, or landing pages. It's how your rental management software should be.
Manage all your leads from one intuitive dashboard
Create your own owner and guest communication lifestyle
Implement automation tools to save time
Create custom templates for all communications
LiveManager
MAINTENANCE AND OPERATIONS PLATFORM FOR VACATION RENTALS
LiveManager makes it easy to juggle work orders and vendors to keep your business running smooth. It's integrated with LiveRez's reservation feature, so new bookings automatically create work orders that you can monitor or edit from any device. With a new reservation, a work order is automatically created. After the work order is complete, you can make last-minute adjustments before pushing it into LiveTrust. When your property management software works efficiently, your business functions that way as well.
LiveManager creates real-life work orders based on custom rules
Mobile-responsive, manage from any device
Multiple user logins
Manage your team and vendors
LiveTrust
TRUST ACCOUNTING PLATFORM FOR VACATION RENTAL MANAGERS
A good accounting software can make your (and your bookkeeper's) lives much easier. LifeTrust is a state-certified trust accounting software that connects with your reservation system, operations management, and CRM.
Certified trust accounting platform
Reconcile your LiveTrust with your bank or escrow account
Generate easy stakeholder and owner statements
Create, save, export, or print custom reports
Full accounting tool that can replace third-party software
Dedicated Support
HELP CENTER AND TECHNICAL SUPPORT
From thousands of articles on the Partner Hub to a dedicated support team, you'll feel supported with LiveRez's wealth of resources. Plus, the LiveRez vacation rental software is powerful but intuitive, making it easy for users to master.
Live technical support Monday through Saturday, 8 a.m. to 6 p.m. MST
Submit a ticket at anytime through the Partner Hub
24/7 resources available in The Partner Hub
Implementation
COMPREHENSIVE ONBOARDING
LiveRez's in-house implementation team is here to get you up-and-running. Your staff will learn the ins and outs of their new vacation rental management software with the help of our moving team. Plus, with customizable programs and continued education programs available, you'll find solutions that fit your business's need.
Dedicated in-house implementation team
Continuing education and ongoing support